/
/
RED Driving School receives 5,000 learner reviews – the first driving school in the UK to reach this milestone
RED Driving School receives 5,000 learner reviews – the first driving school in the UK to reach this milestone
A huge part of our purpose is to ensure that our learner drivers feel safe, encouraged, and listened to. We therefore always welcome feedback, and last week we received our 5,000th learner review on TrustPilot. A brilliant feat and excitingly, 84% of these reviewers rate RED Driving School as "Excellent".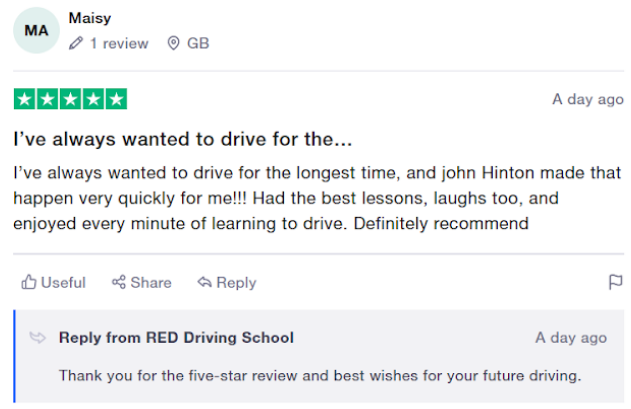 Maisy was our number 5,000 who had been taught by RED Driving Instructor, John Hinton, and shared her experience which went further than just learning to drive, with plenty of laughs and enjoyment along the way too.
We're incredibly proud of all RED Driving Instructors across the country who go the extra mile for our customers, every day. Our instructors and support team who focus on delivering exemplary service are a huge part of what awards us the "Best National Driving School" year after year.